If there's one thing that will kick off reflection like no other, it's birth and death. Ok, that's two things, but they have the same effect.
The theme that sums up 2019 for me is existential crisis.  2019 saw the birth of my second child and my first nephew. But as one life begins, another ends; and we also saw the death of my beloved grandmother and mother-in-law.  
Aside from a string of deeply personal and emotional tribulations, 2019 has been a significant year for me. A year of big personal growth (at least something came of the existential crisis!), learning, understanding and commitment. Although I haven't figured out the answer to the meaning of life, I'm well and truly ready to get on with 2020 – enough of the existential stuff for now, thanks!
Leaving the personal challenges aside, here are the themes that come to mind when I reflect on 2019.
1. Collaboration 
I'm still amazed at how many people are willing to help, to share, to offer time, to give … if only we simply ask.  Plenty of wonderful people who have offered me their time, support and mentorship throughout the year and I am truly grateful. (Katherine Thomas, Jonathan Steingiesser, Jeremy Watkins, Ann-Maree David – I'm looking at you. Thank you. And of course Jo Alilovic – forever listening to my new ideas.)
I'm a firm believer that the best type of change, innovation, development – whatever you want to call it – will come about when we work together. So far, 20 wonderful change makers have joined me on the Doing Law Differently podcast. They've openly shared the inner workings of their business, their plans for the future and the "how" of the way they operate, all in the name of transforming our profession.  And there are plenty more to come – I've already got 8 interviews lined up for 2020.   
2. Customers 
In early 2019, I discovered service design, a discipline that cuts perfectly across my passions for process improvement, operations and management. I realised that there was a whole industry of people who did exactly what I do, they just didn't do it in the legal profession (yet!). I discovered a whole toolbox of methods, tools and principles and have spent the year learning, testing and designing. 
We are in the Age of the Customer, and if I didn't know that before, I surely know it now. In this new paradigm, the key to business success is to put customers at the heart of everything we do. 
Technology isn't the answer to innovation in law, people are. The better we can understand people, the more prepared we'll be for whatever the future will bring. Yes, technology has a huge part to play, but we have to get the people (and processes) right first. 
3. Confidence
Confidence. Aka imposter syndrome (but the "i" didn't fit with my "c" theme). 
I'm yet to speak to a single person about who has told me they don't experience imposter syndrome from time to time. My lesson: we all deal with it. We can let it hold us back, or we can push it aside and just get on with it.
I still love this image I came across earlier in the year and have it on my wall as a reminder: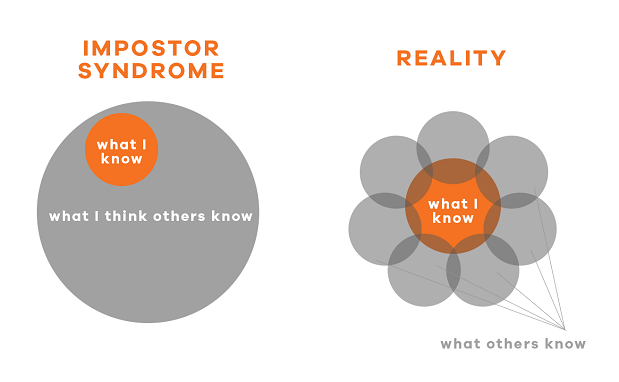 And now for 2020 
After the year that was, my motto for 2020 is "Less talk, more action."
In the words of my friend Katherine who nominated me for this post, JFDI! Time for me to take a leaf out of your book!
"All good thoughts and ideas mean nothing without action."
Thanks to Katherine Thomas for nominating me for Janders Dean's initiative to #reflectthenelect by sharing reflections from 2019 and then nominating others to do the same. I'd love to hear reflections from Gemma Nugent, Catherine Stokes, Steven Brown, Jo Alilovic, Ann-Maree David and Karen Finch.