ready to Do Law Differently?
Reshape your firm and regain your life
Do you want a more dynamic law firm model that is good for business and good for your life? There's no denying that the legal profession is changing. Now more that ever is the time to challenge conventional thinking and come up with innovative ways to do business.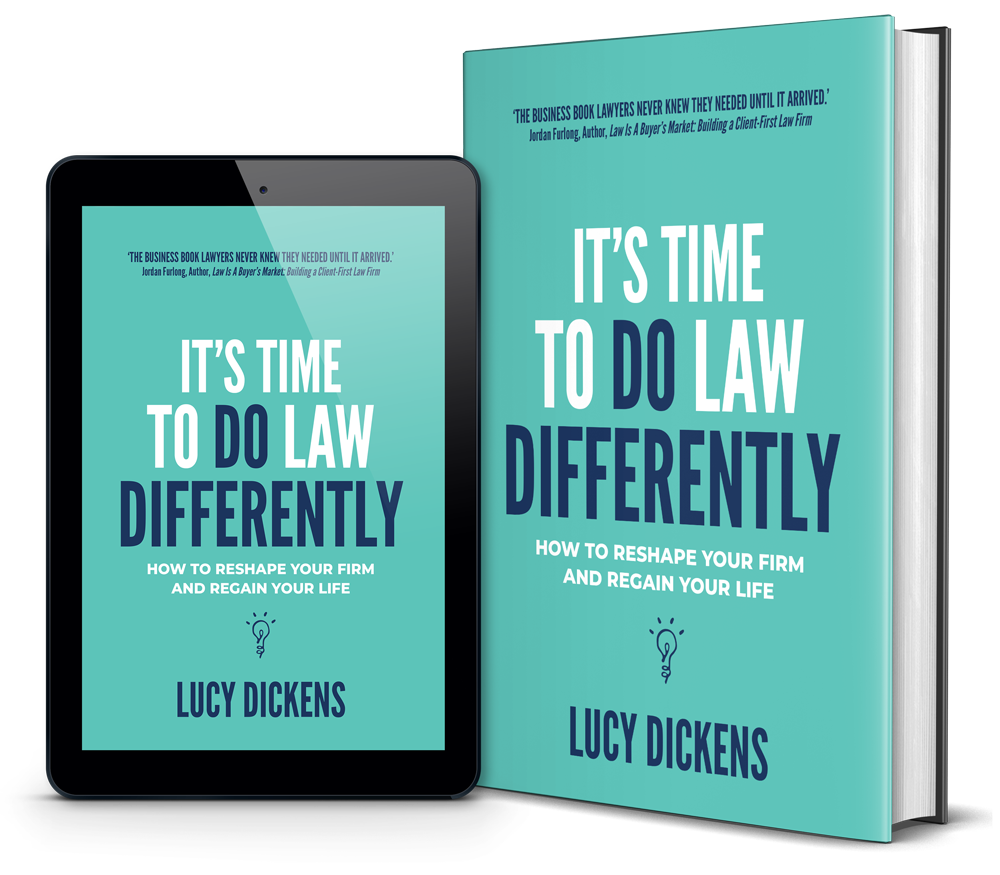 It's Time To Do Law Differently
There's a lot of talk about why the legal profession should change, but far less about how to actually do it. How do you take all the competing ideas and theories and translate them into a strategy for your firm? This book shows you how. 
In It's Time To Do Law Differently Lucy shares her six-stage blueprint for transforming your law firm. Learn how to move from a traditional practice to a productised ecosystem and as a bonus, you might just get that quality lifestyle that you've been craving.
Want me to talk about doing law differently at your next event?
I love turning ideas into practical guidance that others can enjoy and benefit from. I'd love to speak at your event and help your audience understand how they too can do law differently.
Lucy Dickens has put together a real treat for small law firms - a book that's comprehensive, yet easy to read and digest! Based on excellent experience and knowledge, It's Time to Do Law Differently sets out a well thought-out 6-step guide to an optimized legal practice - not just to make more money and achieve greater efficiency, but to give lawyers more time for the things in life that they hold dear. It should be given to every small firm lawyer - and law graduate. During my read of it I kept thinking, Damn, I wish I wrote that!
Clear, practical, empathetic, and engaging, this is the business book lawyers never knew they needed until it arrived. Based on a decade of successful innovation in her own small firm, Lucy Dickens has written a real-world, step-by-step guide to transforming your law practice into a profitable modern business that gives your clients what they truly need while rescuing you from the law practice treadmill and giving you back your life. The world is changing fast, and the legal profession is changing with it. It's Time To Do Law Differently -- let Lucy Dickens show you how.
It's time to do Law Differently is the perfect guide for law practice owners who are looking to build a firm for the future that combines their technical skill and talent with business smarts. Lucy's simple framework will help you to make shifts in how you practice law and in turn will have you reconnecting with the passion that enticed you to start your firm in the first place.
It's Time to Do Law Differently is a timely and practical handbook for leaders of smaller law firms of all kinds. Timely. The tsunami of change for traditional firms is accelerating as a result of the pandemic. If ever there was a time to adapt and transform a law firm's business model, it's now. While there is a growing number of resources to guide larger law firms, there are few for smaller firms which have particular challenges. Practical. Smaller law firm leaders by-and-large know they have to change the way they operate, what they need is the 'how to'. Lucy Dickens six-step transformation process shows the way in plain language.
If you are a lawyer who is risk averse, loves working in Biglaw/Oldlaw, wants to look the same as your colleagues and competitors, loves filling out timesheets and being measured and rewarded for inputs and time spent, then this is definitely not the book for you. If however you are a lawyer who seeks a greater purpose in your professional life, is entrepreneurial, prepared to take some risks, seeks to be different and genuinely cares about your clients and the future of your profession then this is the book for you. You will not be disappointed.
This book is going to be THE go to user friendly guide for small law firms (but really all law firms) looking to make a permanent and sustained change to contemporary legal practice. The book shares the lessons learned from the innovation journey taken by Lucy's firm, Birman Ride, and distils these into a six-step process that is practical, relatable and achievable. Interspersed throughout the book and illustrative of the points made, are examples from other firms, many notably drawn from Lucy's highly successful podcast series "Doing Law Differently." The book, together with Lucy's podcast, will not only provide a "how to" compendium on doing law differently, but might just set you on the path to a more fulfilling life too - you'll want to read this one!
Of the many talents of Lucy Dickens, one shines above the others – an ability, not only to understand complex matters, but to communicate them clearly and simply. Such gift is on full display in this book, generously packed with practical wisdom. Law firm leaders will return here again and again for guidance, and inspiration.
I've had the privilege of calling Lucy my friend for years now and have personally benefited from many a conversation about running a law firm. She's my go to person. Now Lucy can be everyone's go to person with this incredible book where she generously shares her easy to follow framework so you can be a lawyer and still have the lifestyle you want.
I want every overworked and overtired lawyer I know to read "Its time to do law differently". Those who tell me that fixed prices are just a "bait and switch" con to lure in clients for a shoddy product. Those who say their clients don't look at the internet. And those who are just too busy to get more efficient. Lucy Dickens demonstrates exactly how her law firm has thrived by offering online legal products as well as more efficient traditional legal services. She has written a step by step practical guide to help any lawyer who wants to deliver better legal services, get better financial returns and start to enjoy their work again.